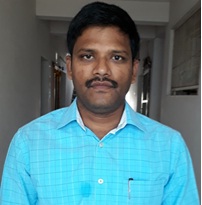 Sri. P. Siva Krishna
Assistant Professor
Electrical & Electronics Engineering Department
R.V.R. & J.C. College of Engineering
Guntur - 522 019
Andhra Pradesh
Phone: +91-863-2288201 Ext: 177(O), 09490442481
E-mail:[email protected]
[email protected]

Date of Birth: 02-06-1983
Date of Joining: 10-07-2009
Educational Qualifications:

B.Tech at Arulmigu Meenakshi Amman College of Engineering, Kancheepuram,2006.
M.Tech at RVR&JC College of engineering, affiliated to ANU, 2009.
Teaching Experience:-
9 Years.
Research Interests:
Renewable Energy,Power Quality.
Research Papers Published:
Shaik.Tenjim Parveen, P.Siva Krishna, "Simulation of Three phase cascade H-Bridge multi-level inverter with grid connected system-Modelling of Switching and conduction losses" International journal of research, ISSN P-2348-6848, e-2348-795x, volume 03, Issue 12, August 20016.
B.Tejaswini, P.Siva Krishna," Design and simulation of a new sliding mode controller for STATCOM based solar farm" International Journal of Scientific Engineering and Technology, ISSN 2319-8885, Volume.04, Issue.37, September- 2015, Pages 8024-8031.
K.Anisha, P.Siva Krishna "A New Modified Closed Loop Control Of Series Compensation Scheme Based Buck-Boost DC/AC Converter With Grid Integration" in International Journal of Electrical and Electronics Engineering, ISSN: Volume -4, Issue-3,2014, PP no :147-153.
"Model reference Adaptive Controller Based Speed Estimation Technique for the Vetor Controlled Permanent Magnet Synchronous Motor Drive",2011 ACEEE,DOI:02.CEMC.2011.01.535.
Workshops / Seminars / Courses Participated:
A National workshop on "Research challenges in power electronics and power systems" during 6th-7th May2016, at NIT Calicut.
A National workshop on "Photovoltaic Systems and Power Electronics" during 29th & 30th January 20016 at University college of Engineering, JNTUK, Kakinada.
A National workshop on " Protection of Power Transformer Applications & its Practical Approach" during 22nd May 2015 at VIT Chennai.
A National workshop on "Emerging Trends in Renewable Energy" during 18th & 19th March 2015.
An International workshop on Power Electronics and Drives" during 18th February 2015 at VIT University, Vellore.
"AICTE Sponsored Two Week Faculty Development Program on "DSP Applications to Industrial Drives" At Vaagdevi College of Engineering , Warangal During 18th to 30th November 2013.
"MNRE sponsored two day work shop on "The Future of Wind Power : Innovations & Research Challenges" at Karunya University, Coimbatore held during 22nd & 23rd of March 2013.
"Role of Power electronics in generation of Renewable Energy Sources - Issues and Challenges" at VIT Chennai on 16th March, 2013.
"Wind Energy Systems" on 12th & 13th August 2011 at PSG College of Technology, Coimbatore.
"DSP Applications in Electrical Engineering" on 20th & 21st April 2011 at VIGNAN UNIVERSITY, Vadlamudi.
"Renewable Energy- Environmental Design Solutions" on 28th & 29 January2011 at Sara Nathan college of Engineering,Tirichy.
"Wavelets- An Electrical Engineers Perspective" on 26th June2010 at Potti Sriramulu Engineering College, Vijayawada.
"Induction Training for young faculty on 7th and 8th" September, 2009 at RVR&JC.
Sponsored Projects
Design of Static Var compensator for transmission line simulation panel
Membership of Professional Bodies:
Member of ISTE
Member of IAENG